Holy moly these are good!!!

This is a recipe I discovered from an older cookbook by Martha Stewart. It definitely does not disappoint. You can substitute the chicken stock for vegetable stock and this makes a wonderful vegetarian dish.

AVOCADO ENCHILADAS (serves 12 to 14)
2 dried ancho chiles
4 cups plus 1 tablespoon vegetable oil
1/2 medium onion, diced
2 cloves of garlic, minced
2 tablespoons brown sugar
5 tablespoons ground cumin
2 tablespoons dried oregano
2 cups white wine
1 twenty-eight ounce can crushed tomatoes
2 cups chicken stock (if vegetarian, substitute vegetable stock)
8 Haas avocados
1/4 cup freshly squeezed lime juice
1/4 teaspoon salt
1/4 teaspoon pepper
25 corn tortillas
1 1/2 pounds grated cheese (I like to mix jack and cheddar)

1. Place the chiles in a saucepan and cover with water. Bring to a boil. Reduce the heat and simmer 5 to 10 minutes. Cool slightly, remove stems, and purée the chiles in a food processor.

2. Heat 1 tablespoon of the oil in a deep skillet over medium heat. Add the onion, garlic, brown sugar, cumin, and oregano. Sauté until onion is soft, 4 to 5 minutes. Add wine, chile purée, tomatoes, and stock. Simmer 20 more minutes until stew consistency.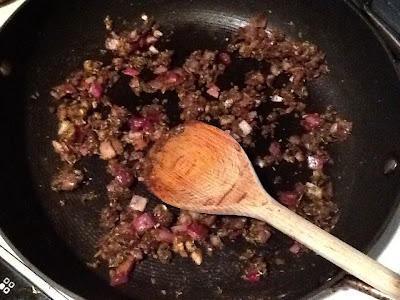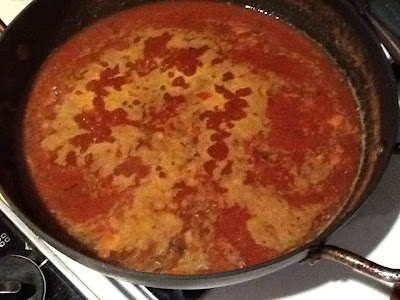 3. Peel, pit, and roughly chop the avocados. Toss with cilantro, lime juice, salt and pepper.
4. Heat oven until 400 degrees. Heat remaining 4 cups of oil in a wide saucepan until very hot but not smoking. Using tongs, fry 6 tortillas one at a time for 2 to 3 seconds. Blot on paper towel.
5. Dip fried tortillas in chile sauce to lightly coat both sides. Spoon 2 tablespoons of the avocado filling onto each torttilla and roll up. Spread 1/2 cup of chile sauce on the bottom of a large deep casserole. Arrange rolled tortillas in casserole so they fit snugly. Repeat entire process, covering the bottom of the casserole. Pour 1 cup of sauce over the tortillas and sprinkle with half of the cheese. Make a second layer using remaining ingredients. Top with remaining sauce and cheese.
6. Bake enchiladas until heated through, 25 to 30 minutes. Serve immediately!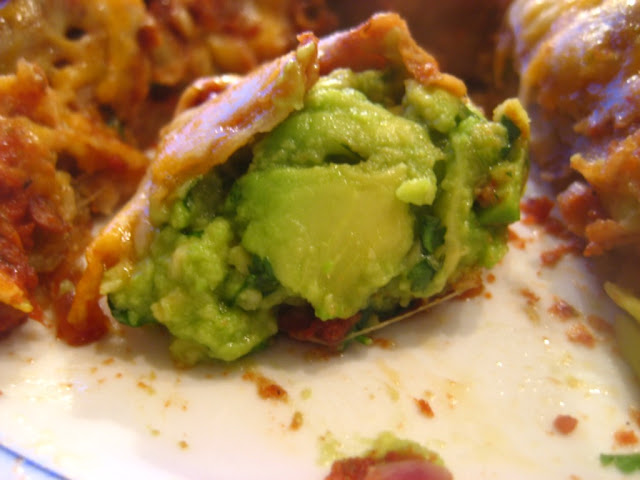 The chile sauce is slightly spicy and sweet, but the creamy lightness of the avocado cuts right through the sauce and makes for a fantastic combination. Whether you are a vegetarian or not, I guarantee you will love these enchiladas.
Hope you love them as much as I do!
R